Family, Community, Country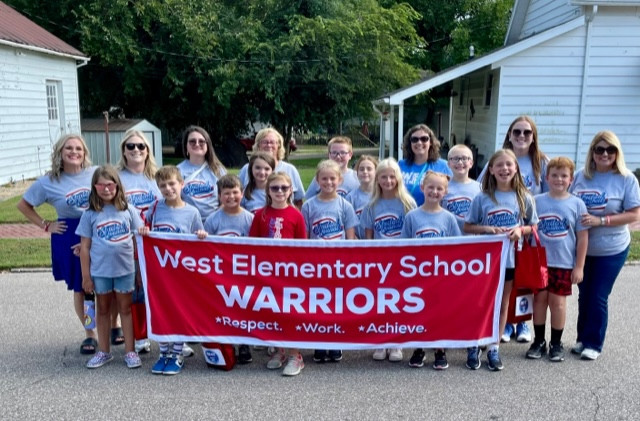 Over the course of the past month our students have been blessed with many wonderful experiences at school and in our Mt. Vernon Community.
Many of these experiences have specifically honored Family, Community and Country.
During the first week of September our West Elementary School PTO invited Grandparents of our West students in for Breakfast before school. Hundreds of students and their Grandparents attended the Grandparents Day Breakfast in our West Cafeteria enjoying donuts and pictures!
Also, towards the beginning of September our 4th Grade Students had the opportunity to learn more about local Indiana History during a Field Tript to River Days. In addition, our West Student Council proudly represented our school in the River Days Parade. We believe it is important for students to participate in local community traditions such as River Days to develop an understanding and appreciation of their own community.
On September 11th, our entire school - students and staff met at the flagpole to recite the Pledge of Allegiance together and have a moment of silence in honor of 9/11/01. We were honored to be led by Gunnery Sgt. Benjamin Hartmann of the United States Marines Corps. Benjamin Hartmann is a former MVHS graduate and father of two current West Elementary students. We appreciate his sacrifice for our safety and freedom and will keep him in our thoughts as he sets out on a two year call to duty in Japan this next month.
Another meaningful opportunity for our students was the Spirit Week we had at West to coincide with MVHS Homecoming Week. We believe that encouraging our students to support and participate in community activities such as these add significant value and treasured memories to their K-12 Education in the MSD of Mt. Vernon.
As we rounded out the last month full of Family, Community and Country, our 9th Annual West Elementary School Family Picnic was a Huge Success again this year! Over 500 West students, family members, and staff members thoroughly enjoyed our tradition of Food and Fun!
We are proud of the experiences our students have had during the first quarter of the school year and cannot wait to see what the rest of the fall semester brings!
Amanda Wilson
West Elementary School Principal
Stay Informed
When you subscribe to the blog, we will send you an e-mail when there are new updates on the site so you wouldn't miss them.
Comments
No comments made yet. Be the first to submit a comment